Hi!
Download link to portable version of UWAMP:
http://www.uwamp.com/file/UwAmp.zip
Localhost is an enviroment for testing php scripts on your local hard disk on Windows.
Theory:
"Localhost" is an alias for the address 127.0.0.1, an address that always indicates the local computer. This is the address that a computer can use to refer to itself. For example, when testing a Web application on the same computer as the server, you can use the address
http://127.0.0.1
or
http://localhost
"
For all experiments with php scripts you will need Apache software with PHP, so you should install this.
I have tested a lot of packages with this software for localhost, but the winner is... (for RazorCMS)
portable
UWAMP. Portable, so if you have a very good pendrive ... your RazorCMS may be with you in every places - you can copy it in internet cafe, or for your clients as your demo.
You can read about this here:
http://www.uwamp.com/wiki/UwAmp_Help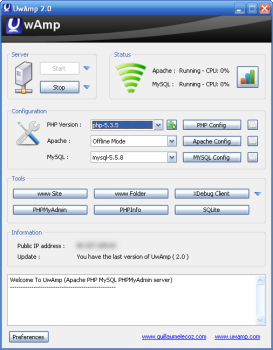 Last version 2.1
Apache 2.2.17
(with SSL)
MySQL 5.5.9 - not important so much for RazorCMS, because it's flat database CMS;
PHP (5.2.17 /
5.3.5
) with Xdebug 2.1.0
PHPMyAdmin 3.3.9.1
SQLite Browser 1.3
Xdebug client 1.0b5
Change PHP version on 5.3.5. (If not, you shoud go to the editor config in php.ini and turn on all zip option - old razor version may have a problem to install without zip library).
If you have this portable version, unpack UWAMP on your hard drive - but it's should be main folder, e.g. C:/UWAMP or G:/UWAMP
(
don't put this inside any subfolder
like C:/Program Files/UWAMP).
Go to ./UWAMP folder, and find
www
folder. Go inside. Create a new folder, e.g.
razor01
there.
So, you should have ./UWAMP/www/razor01/all your instalation files
Put into razor01 all files from Razor instalation pack - can you see install.php there? Yes? Then everything is ok
Find and run ./UWAMP/
uwamp.exe
to run this aplication.
Find a button '
www Site
' - click - and your default browser should display one new page, when
you can find razor01 folder
on this long list of links.
Click on razor01 link there - it will be your newest first RazorCMS instalation on localhost.
You should see an adress:
http://localhost/razor01
on your browser.
Something more about localhost for Windows you can find here:
viewtopic.php?f=4&t=936
Enjoy and do many tests:-)
Alternative for UWAMP:
http://www.usbwebserver.net/en/download.php